The quality of the photos and videos from this company is better than what you get from other companies, because all photos and videos and editing are made by high quality digital equipment, without loss of quality. We will have a new virgin every month! You will have a new act of defloration also every month! "Euronet Group Inc. All right reserved.
Kamilla.
Her Hymen is a Treasure!

I met an 18 year old girl who is vacationing here in Budapest. She told me that she is still a virgin and her 25 yr. old boyfriend gave her an unusual gift. She received one of a pair of diamond earrings. He took her to see a professional piercing service, and there a woman attached the diamond to her hymen. At first I didn't believe her, but she showed me. There in the center of her hymen was a large sparkling diamond. Her boyfriend told her that she would get the second earring when she gave him her virginity. She told me that she wants to get the other earring!

Her Hymen is a Treasure!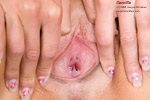 Close-up Hymen pictures for members only!
Yes! !